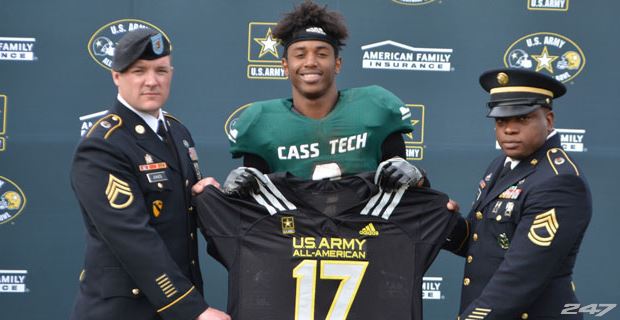 The No. 1 receiver in America per 247Sports committed to Michigan Thursday evening in Detroit (Mich.) Cass Tech standout Donovan Peoples-Jones.
Peoples-Jones announced his verbal to the in-state school over his other finalists Michigan State, Ohio State, Florida and Florida State, and becomes the jewel of a Wolverines recruiting class that rises two spots to No. 5 in the 247Sports recruiting rankings.
Considered a lean for much of the process, the finality of his pledge may have sent a tremor through Ann Arbor, as there were still some nerves at the end that Peoples-Jones could head elsewhere. Jim Harbaugh and company started working on this one shortly after they were hired prior to the 2015 season, and the grind paid off as the they secured the top-ranked player in the state, and perhaps the top player on their board in the 2017 recruiting cycle.
"Donovan, he's going to bring that it-factor offensively, that I don't know if the Wolverines have had in a while," Detroit (Mich.) King coach Ty Spencer said. King only lost two games this fall, both to Peoples-Jones and Cass Tech, as each school won state championships in their respective classes.
"He brings that Braylon Edwards type of back in the day, David Terrell type of receiver they haven't had," Spencer continued. "An explosive Amani Toomer kind of guy."
There may not be a better athlete in America than the 6-foot-2, 193-pound Peoples-Jones, who had the game-winning touchdown catch in the semifinals to send Cass Tech to the state championship this year, and he caught two more scores in the final to close his prep career with a ring. He finished the year with 60 receptions for 1,071 yards and 17 touchdowns.
"He's one of the best players to ever play at Cass," Coach Tom Wilcher said. "Every day he just keeps attacking and trying to get better and better."
Peoples-Jones has the same mentality off the field carrying a 3.98 GPA as he plans to be a pre-med major in Ann Arbor.
"He brings to the field a level of competition that he wants to compete and be the best at everything, and he will bring that level to drive the players around him," Wilcher said.
Heading into his junior season Peoples-Jones erupted as a national recruit after winning the Nike Football Rating Championship at The Opening Finals, competing alongside many of the nation's top prospects who were a year older. That day Peoples-Jones ran a 4.42 laser-time 40-yard dash with a 42-inch vertical leap.
From a skill set standpoint, he has all the traits coveted at the receiver position. A U.S. Army All-American and the 2016 State Gatorade Player of the Year, Peoples-Jones is a very fast and very physical, blow-by-you pass catcher that has a knack for making the big play. Great leaping ability and burst, Peoples-Jones was an impact guy on defense this fall and could be dangerous in the return game on the next level as well.
"Where I've seen him develop most as a player is his knowledge," Wilcher said. "His thirst for knowledge about the game and trying to be better."
With Peoples-Jones in the fold Michigan has a verbal from the top four players in the state per 247Sports and five of the top sixth. The one not in the boat is Deron Irving-Bey who will announce his college commitment at the U.S. Army All-American Bowl on Jan. 7. The Wolverines are the 247Sports Crystal Ball favorite.
Peoples-Jones keeps rolling what could be as big a week as anyone will have on the trail this week. Fellow Top247 receiver Tarik Black announced his pledge Wednesday and on Friday blue-chip offensive tackle Isaiah Wilson is set to decide with Michigan battling Georgia. Next Monday the nation's No. 1 center Cesar Ruiz is expected to select the Wolverines and Top247 linebacker Jordan Anthony likely makes his decision in favor of the Maize and Blue this coming week as well.