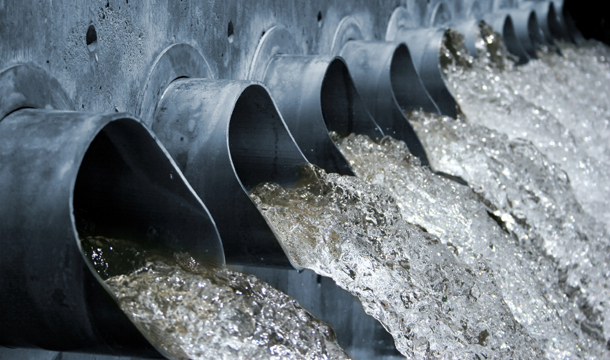 Congress has passed a major infrastructure bill authorizing more than $10 billion for new Army Corps of Engineers water projects and providing funds to upgrade failing drinking-water systems. The measure gained final congressional approval early in the morning of Dec. 10, when the Senate cleared it on a 78-21 vote.
The measure, which the House approved, 360-61, on Dec. 8, next goes to the White House for President Obama's signature (read bill text here.)
The centerpiece of the new Water Infrastructure Improvements Act for the Nation, or WIIN, is the $10.3 billion in federal funds it authorizes for 30 new Corps flood-control, harbor-dredging, environmental restoration and other projects. Non-federal funds would supplement the federal dollars on many of the projects.
Although some Senate-approved clean-water programs did not make it into the final version, others survived, including funding for restoration programs for the Great Lakes and Lake Tahoe.
The largest project allocations in the bill's Corps section, titled the Water Resources Development Act (WRDA) of 2016, include $2.7 billion for Ohio River lock and dam improvements in Pennsylvania; $2.1 billion for storm protection and environmental restoration in southwestern coastal Louisiana; and $993 million for Central Everglades environmental restoration in Florida.
In addition, the package authorizes $170 million for programs related to drinking water, including $100 million to fix ailing water lines in cities such as Flint, Mich. Authorizations are subject to annual appropriations, but a pending stopgap spending package, which the House cleared shortly before the water bill, appropriates the $170 million.
The House-passed water measure also includes non-binding "sense of Congress" language that calls for $20 million to support federal Water Infrastructure Finance and Innovation Act loans. Those loans could help finance drinking-water and other water-related projects.
Provisions for Clean Water
In addition, Patricia Sinicropi, National Association of Clean Water Agencies senior legislative director, notes that the compromise WIIN measure authorizes $1.5 billion over five years for a Great Lakes restoration program. Sinicropi says, "That money goes to manage stormwater and nonpoint-source pollution, so that's significant."
Lake Tahoe will receive $415 million for nonpoint storm-management issues, she adds. The legislation also has provisions for the Columbia River and the Delaware River basin but doesn't authorize specific funding.
Water officials were disappointed that, in final negotiations with the House, the final bill dropped a $1.8-billion authorization for a combined-sewer-overflow program; that authorization had been in the WRDA the Senate passed earlier this year. A Senate-approved provision to launch a drinking-water trust fund met the same fate.
But the WIIN bill's main House author, Transportation and Infrastructure Committee Chairman Bill Shuster (R-Pa.), said in a statement after the vote, "Without question, this infrastructure legislation is a win for America."
The bill's Senate supporters overcame objections from the Environment and Public Works Committee's top Democrat, Barbara Boxer (Calif.), who slammed a provision dealing with water issues in her state. She called the provision a "poison pill" that would divert water from the salmon fishery industry to large agricultural interests. She contended that it would mean "the loss of thousands of fishery jobs," would "roll back the Endangered Species Act" and "take away power from Congress to approve new dams all over the country."
Other Senators, including Sherrod Brown (D-Ohio), blasted the measure's authors for another reason—deleting language that would permanently require U.S.-produced iron and steel to be used on projects supported by drinking-water state revolving funds (SRFs).
The WIIN legislation does include a "Buy America" requirement for the SRFs, but only for 2017. Brown said the one-year provision is already in effect and falls far short of what is needed.
But. in the end, WIIN and WRDA advocates prevailed.
Port and Waterways Groups Are Pleased
The American Association of Port Authorities said it was pleased to see that the bill included several provisions it viewed as priorities.
The compromise bill authorizes several dredging projects and increases the federal funding share to 75% for deepening harbors to 50 ft. The 75% share now applies to dredging to 45 ft. The current federal contribution from 45 ft to 50 ft is 50%.
AAPA was also happy that the final package included language calling for a 3% annual increase in targets for spending from Harbor Maintenance Tax collections. The increase stays in place even if estimated tax receipts decline in a given year.
Waterways Council Inc. welcomed authorizations for three Corps inland-waterways projects, including the Ohio River, the Calcasieu Lock in Louisiana and Brazos Island Harbor in Texas. Further, the council was pleased that lawmakers didn't include a public-private-partnership provision, which, it said, would have allowed tolls and lockage fees on tributaries. WCI fought that provision, which it called "onerous."
The legislation contains language that gives states the authority to issue permits for the use of coal ash, subject to U.S. Environmental Protection Agency oversight. Coal ash is used in some construction materials.