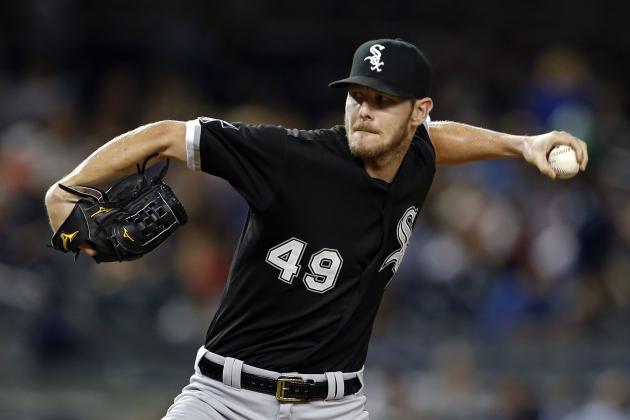 The Red Sox have acquired left-handed ace Chris Sale from the White Sox. Headed back to Chicago are four prospects: infielder/outfielder Yoan Moncada, right-hander Michael Kopech, right-hander Victor Diaz, and outfielder Luis Basabe.
Sale, 27 and going into his age-28 season, has in his career pitched to a 3.00 ERA (135 ERA+) with a 4.78 K/BB ratio, which is tops among active pitchers. Sale's high-effort delivery has long caused concerns, but the reality is that he has averaged 30 starts per season over the past half decade. Speaking of the last half-decade, over that span he's finished no worse than sixth in the AL Cy Young balloting.
As well, Sale is under contract for $12 million for 2017, and he's controllable via options in 2018 and 2019 for $12.5 million and $13.5 million, respectively. Obviously, those are well below market rates for a player like Sale.
In Boston, Sale joins a rotation that already features David Price and reigning AL Cy Young winner Rick Porcello. That's to say nothing of Boston's powerhouse offense — an offense that figures to score a lot of runs even without David Ortiz. Also important is that Boston was able to pull off such a trade without parting with any of their young core — Mookie Betts, Xander Bogaerts, Jackie Bradley and Andrew Benintendi remain in Boston.
On the White Sox's side of things, Moncada, 21, is regarded as one of the top prospects in all of baseball. The Cuban defector struggled in his first taste of the majors last season, but the tools, skills and minor-league record of performance are unassailable. He's likely to settle in at second base or center field — his two best positions — on Chicago's watch.
Kopech, 20, was the 33rd overall pick of the 2014 draft and was a consensus top-100 overall prospect coming into 2016. One of the hardest throwers in baseball — he's been clocked at 105 mph — Kopech across parts of three minor-league seasons has a 2.61 ERA with 172 strikeouts in 134 2/3 innings.
In addition to those two elite prospects, there's also Diaz and Basabe. Diaz, 22, hasn't pitched above the Sally League, but he's registered a 3.00 ERA with good strikeout numbers in 58 career relief appearances. Late-inning relief potential? Maybe …
Basabe, 20, owns a slash line of .253/.353/.408 with 73 stolen bases in 298 minor-league games. He's a primary center fielder, and last season he reached the High-A Carolina League. Basabe is generally regarded as one of the 10 best prospects in the Red Sox system.
In summary, the biggest move of the 2016-17 offseason may have just gone down.