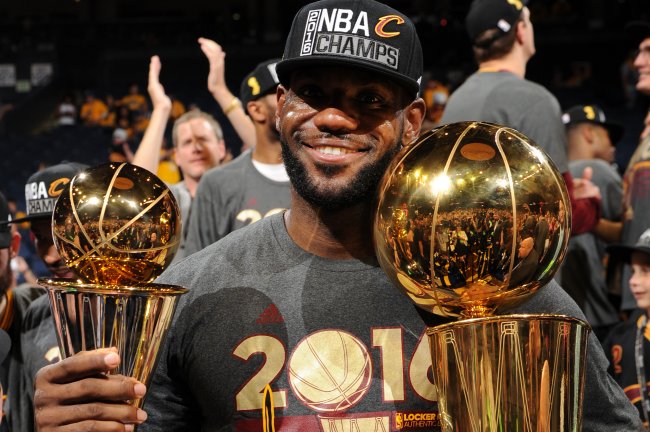 Sports Illustrated named Cleveland Cavaliers star LeBron James its 2016 Sportsman of the Year on Thursday. This year, James won his third title with his third NBA Finals MVP, breaking a curse by bringing a championship to his home state.
He, of course, was not the only athlete to help end a famous title drought. He wasn't even the only athlete to be part of a comeback from a 3-1 deficit to end a famous title drought. He is, however, the only athlete who did those things to gain more than a ring. In putting the Cavaliers on his back in the NBA Finals he also fulfilled a promise to his home city and to an entire region. He was following through on that heartfelt, but risky, vow he made three summers ago when he returned home after four successful years in Miami
And from Lee Jenkins' cover story:
[Cavaliers general manager David] Griffin points out a photograph of James, hanging in a hallway of the Cavaliers practice facility, taken moments after Kyrie Irving hit the three and Love made the stop and Tristan Thompson did the double-take as the horn sounded. James's arms are wrapped around Love's neck, his head tilted skyward, eyes squeezed shut. He is standing on the tiptoes of his black-and-gold Soldier 10s. Love could feel an actual weight lifting from his teammate's 250-pound frame. "Look at LeBron's face," Griffin says. "Look at that joy. I don't know what he can do that's bigger than this. I really don't. It's like if the best player on this year's Cubs were from Chicago, or the best player on the 2004 Red Sox were from Boston. He broke the curse at home."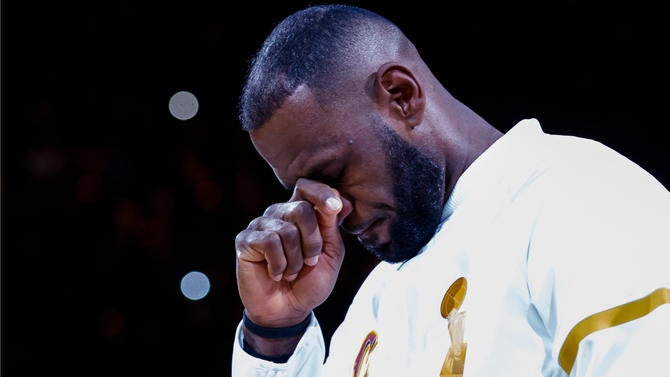 Based purely on his performance against the 73-win Golden State Warriors after falling behind 3-1 in the Finals — yes, this is a reminder that the Warriors blew a 3-1 lead in the NBA Finals — he deserves all the accolades in the world. While Stephen Curry earned his MVP trophies in the past two regular seasons, James showed last June, on the biggest stage possible, that when he's at his best, no one who has ever played the sport is quite like him.
This is the second time James has been named SI's Sportsman of the Year. The first was in 2012, the year he won his first title with the Miami Heat and followed it up with a gold medal with Team USA in London.